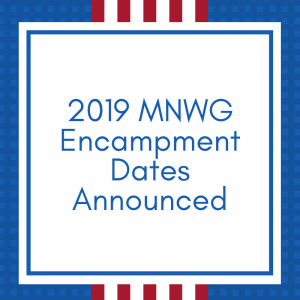 From LtCol Ellen Browning, MNWG Encampment Activity Director:
Cadre Selection Exercise (CSE) Feb 22 – 24, 2019.
The CSE is where staff is selected for Encampment. To be eligible to apply, you must have attended an Encampment.
The Cadre Training Weekend (CTW) March 28th -31st, 2019.
Encampment Preparatory School (EPS) May 10-12, 2019
This is a weekend event, giving cadets a snapshot of what Encampment is like. 
EPS is required for cadets who will not be 14 years old OR at least a C/SSgt by the first day of MNWG Encampment.
MNWG Encampment Dates  June 29th – July 6th, 2019