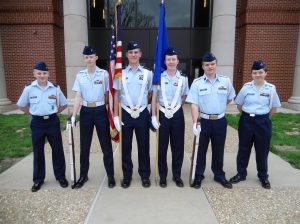 What is Color Guard & Cadet Competition?
A Color Guard is a segment of a Cadet Competition team, but may also be a non-competitive team of cadets that raise community awareness by marching in community parades or appearing at community events.
A Color Guard is comprised of 4 members:
Senior Flag – US flag bearer
Junior Flag – Unit or other flag bearer
Senior Rifle – Escorts US flag
Junior Rifle – Escorts Unit or other flag
A Color Guard may post the colors at indoor and/or outdoor events.
What is Cadet Competition?
This program showcases cadets who embody all elements of the cadet program: leadership, excellence, teamwork, knowledge and more.
How big is a Cadet Competition team?  6 cadets are required
Is there a minimum grade to participate? Cadets must have earned at least Ach 1, but cadets usually go through a try out process to make the team
What events make up a Cadet Competition? 
At the MNWG level, the following events are included:
Indoor Posting of the Colors
Outdoor Posting of the Colors
Team Leadership Problem
Written Exam (leadership, aerospace, drill, and current events)
Cadet Physical Fitness Test –  (done at the squadron)
Uniform Inspection—(spot inspections and uniform prep)
The top 2 teams will qualify to represent MNWG at the North Central Region Competition (usually held the following spring)
The top 2 teams at the North Central Region Cadet Competition will qualify for an all-expenses paid trip to the National Cadet Competition (usually held in June/July)
To learn more about the Cadet Competition program and its events, please see CAPP 52-4